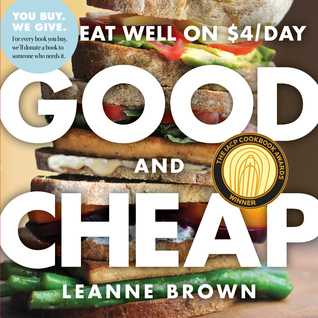 This edition of Good and Cheap will be published on July 14, 2015. I received a copy through NetGalley. I believe this book has been out in different forms for a while.
Someone who is on food stamps is expected to live on $4 a day per person. That's not a lot. This book gives a ton of recipes that fit the bill, and they all look delicious. The recipes are easy to follow and have a ton of gorgeous pictures.
Even if you don't need to, cooking on a budget is a great skill we can all benefit from. It's all about getting enough and the most nutritious food we can afford to feed our families. If you're feeling like you're in a rut because you find yourself cooking the same things all the time, take a look at the recipes in this book. It shows that you don't need a lot of money to eat fun, delicious and even adventurous food.
I cooked a recipe from the book, even getting out of my comfort zone a little. This is Pasta with Eggplant and Tomato. I've never cooked an eggplant before. I've never even seen a raw one up close.
There was literally nothing to this. I started boiling water for pasta, and peeled and chopped my eggplant. Then I sauteed the eggplant in some oil with a little bit of salt. After it cooked for a while, I added some garlic, red pepper flakes, and a can of diced tomatoes. Once that was all combined, I tossed the pasta into it. That's it.
It's not going to be a repeat dish, but it has definitely made me realize that eggplant is good and I want to try more dishes with it. My fiance even said that the eggplant was the best part of this dish.
Not counting the staple ingredients I already had on hand like the garlic, olive oil and red pepper flakes, I spent $3.92 on the ingredients for this dish. And it made at least four servings, so that's less than a dollar per serving.
I bookmarked a few recipes from the book, so you may see another one pop up on this blog sometime.