Hello, it's Thrifty Thursday! On the topic of being thrifty, I made my own ice cream for the first time the other day with our new ice cream maker my future sister-in-law got us. I just used the packet of 'mix with cream' powdered ice cream she also got us, so free ice cream, cool! I think I could do better with a homemade recipe though. It just kind of tasted like frozen, sweetened milk.
Anyway, here is my weekly project.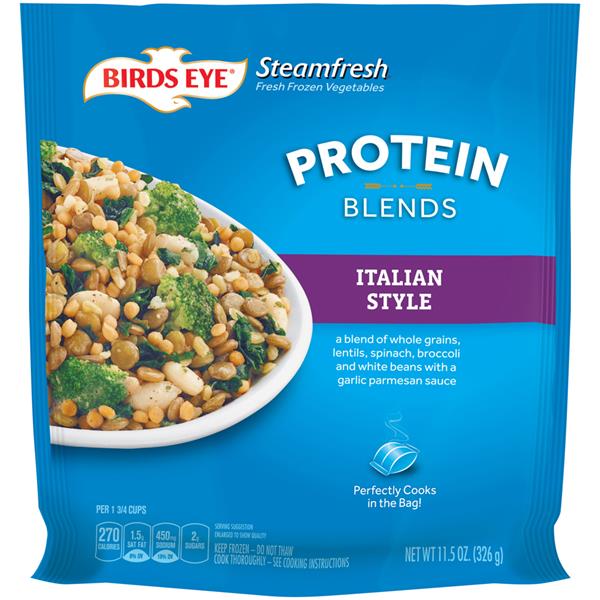 This is a relatively new product you can find in most grocery freezer sections next to the frozen vegetables. It's an awesome thing to have in your freezer for a quick side, but you get maybe 2 servings out of this little bag for $3 normal price. That's not very thrifty.
I tried both the California and the Italian style blends and they were delicious. The California one was on the spicy side, which we don't like, but the blend is great. I'm going to do my best to make my own versions of these with homemade ingredients.
Here is the ingredient list for the Italian blend:
Vegetables (Cooked Lentils [Cooked Lentils, Soybean Oil, Salt], Spinach, Broccoli, Cooked Great Northern Beans [Great Northern Beans, Water, Calcium Chloride]), Cooked Whole Grain Tomato Acini Di Pepe Macaroni Product (Water, Whole Grain Tomato Acini Di Pepe Macaroni Product [Whole Durum Wheat Flour, Semolina Wheat, Dried Tomato, Niacin, Ferrous Sulfate, Thiamine Mononitrate, Riboflavin, Folic Acid]), Cooked Whole Grain Bulgur Wheat (Water, Whole Grain Bulgur Wheat), Sauce (Water, Parmesan Cheese [Pasteurized Park Skim Milk, Cheese Cultures, Salt, Enzymes], Kale, Light Cream Blend [Cream, Skim Milk, Nonfat Milk Powder], Soybean Oil, Garlic, Corn Starch, Butter Concentrate [Butter (Cream, Salt), Flavor], Salt, Spices, Onion Powder, Basil).
Nothing overly concerning there, at least in my opinion. But that should give me my clues to making it myself for cheaper and a larger batch. The original mix has acini de pepe pasta and bulgur wheat, but for my first attempt version, I used quinoa and rice. 
Voila, my first attempt. I realized when writing this up that I forgot the Great Northern Beans, and I even had a can in the cabinet. What I did include:
1 cup of parboiled rice (cooked separately)
1 cup of white quinoa
1 cup of lentils
2 cups of chicken stock
2 cups of water
1+ cup of frozen broccoli
A large handful or two of spinach
Salt, pepper, garlic powder and onion powder
Mozzarella cheese
I cooked the rice separately while bringing the quinoa, lentils, chicken stock and water to a simmer. I let that cook until the liquid was almost absorbed and then I added the vegetables to steam.
It was okay, edible at least. It wasn't overly flavorful though. I also just really don't like quinoa all that much, at least this white quinoa. It always has a little bit of a gross flavor and yes, I rinse it.
For my next attempt, I'm going to use rice and try to find the acini di pepe (tiny pasta). I'll also add the beans, and chop up the spinach. And maybe season a little more than I did.
Any seasoned cooks have any ideas for making this more like the protein blend? Something I should try?